Little Blue Book Of Excellence
Local Businesses by Recommendation Only

Although we are confident that the featured businesses will provide excellent service and value for money we are not the agents of any of the businesses listed. We would always advise making your own enquiries by checking on memberships, trade associations, other relevant bodies and independent references. If we can assist in this in anyway please contact us for guidance.

Handyman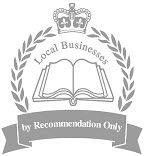 David Simkins Handyman Services

Telephone: 01530 415781

Email address: dsimkins@hotmail.co.uk <mailto:dsimkins@hotmail.co.uk>


David Simkins is a fantastic addition to the Little Blue Book of Excellence. With the skills to complete all DIY jobs inside and outside of the home and a manufacturing engineer by trade, he is always making or doing something for someone!

David can design and build all types of furniture, including storage solutions, shelves, doors, bookcases and cupboards. His DIY expertise includes hanging doors, fixing drainage issues and building kitchens.

Outside he can build and mend tree houses, sheds, greenhouses and children's play equipment. In addition he can undertake small building work - walls, patios, gates, fences, or metal design and fabrication, e.g railings or metal constructions.

David can turn his hand to almost anything, so give him a call to talk through your requirements.



.