Little Blue Book Of Excellence
Local Businesses by Recommendation Only

Although we are confident that the featured businesses will provide excellent service and value for money we are not the agents of any of the businesses listed. We would always advise making your own enquiries by checking on memberships, trade associations, other relevant bodies and independent references. If we can assist in this in anyway please contact us for guidance.

Fencing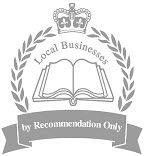 C & C Agricultural Services
tel: 07709 147943
website:
www.checkatrade.com/CAndCAgriculturalServices
email:
candcagriservices@hotmail.com
Chris Spike runs this trusted and diverse garden services business. The list of garden work that they can carry out is extensive and wide ranging. Call Chris for hard landscaping, tree felling, turfing, fencing, patios, decking, excavating work (qualified and licensed digger drivers) and any other garden project. Chris is really friendly and is passionate about the service he provides. He is a member of Checkatrade and fully insured.
"Good, reliable and honest approach and customer service, which is rare today. This is the second job done for me and I am very pleased."