Little Blue Book Of Excellence
Local Businesses by Recommendation Only

Although we are confident that the featured businesses will provide excellent service and value for money we are not the agents of any of the businesses listed. We would always advise making your own enquiries by checking on memberships, trade associations, other relevant bodies and independent references. If we can assist in this in anyway please contact us for guidance.

Decluttering and Home Staging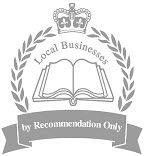 itidy
Tel: 07917 037078 or 07811 125130
Website:
www.itidyashby.co.uk
E-mail:
info@itidyashby.co.uk
itidy provides an effective de-cluttering service. They aim to simplify the tasks in your life. Leaving you time for the fun things. It could be that you donít know where to start or how to arrange your space. itidy can organise and tidy your home so that works for you. They provide clients with a range of solutions to enhance their home life. Angela and Tracey are a friendly and caring duo, who recognise the need to handle clients sensitively during what can be an emotional transformation. They can tackle any room in your home and additional areas such as filing cabinets, store cupboards, wardrobes and much more.
If you are struggling to sell your home or need help to prepare for sales viewings, itidy also provides a home-staging service, offering a range of approaches to maximise and accelerate your sales potential. You can choose from a flat fee consultation or hands on help. Home management service also available to help with time management and weekly budgeting.
Prices start at £25 per hour. Free no obligation quotation.